12 Days of Traditions
by Terri Bonin
Whether you pick a few ideas or do them all, you're sure to make the season a little brighter and maybe even find a new tradition for years to come!
Day 1: Make scented pine cones
This activity is a weekend win with the kids. Gather some pine cones, make sure they're clean before laying on a foil-lined baking sheet. Bake at 200º F in the oven for about 30 minutes. Wait for them to cool and transfer to gallon zip-top bag. Add about 30 drops of your favorite essential oils and leave bag sealed for 1-2 weeks. The longer you wait, the stronger the smell. Place out just in time for your holiday celebrations.
Day 2: Trim the tree
Decorate the tree with your favorite ornaments and add some extra holiday cheer by diffusing festive Christmas scents. Our new favorite? The DIY Holiday Cheer Blend, made from 3 drops Wintergreen, 3 drops Peppermint, 2 drops Cinnamon Bark, and 2 drops Orange.
Day 3: See the lights
Plug your USB Diffuser into your car and take your favorite Christmas oil blends with you when you drive around to look at holiday lights with your family. Try Christmas Spirit™, a YL seasonal favorite, to brighten everyone's mood.
Day 4: Sip on a sweet treat
Try our lavender hot chocolate recipe and cozy up with a holiday movie while you drink it!
Day 5: Do something sweet
Make a holiday treat to share with friends or neighbors. Try our dark chocolate truffle recipe with gingerbread-inspired flavor—it is rich, chocolatey, and made with naturally derived ingredients!
Day 6: Get Crafty
Make homemade gifts for the people you love and for yourself! Our homemade body butter recipe is perfect for the dry winter months.
Day 7: Make your own ornament
Spruce up your tree with one-of-a-kind DIY Christmas ornaments. Click here to see how to make your own essential oil-infused ornaments from terra cotta clay, cookie cutters, and your favorite essential oils!
Day 8: Play around with playdough
Learn how to make playdough with just these easy ingredients and make holiday-themed scenes and shapes such as a snowman or Christmas tree.
INGREDIENTS:
• 2 cups flour
• 1 cup salt
• 2 teaspoons cream of tartar
• 1 tablespoon oil
• 2 cups cold water
• A few drops of any essential oil
• Food coloring, optional
DIRECTIONS:
Mix flour, salt, cream of tartar, oil, and water in a medium saucepan.
Stir over medium heat for about 5 minutes, until play dough has reached the right consistency.
Let cool, split into 3 balls, and knead in essential oils and optional food coloring until
it is distributed evenly throughout each ball of play dough.
Store in airtight container.
Day 9: Gather around the fire
Snuggle up by the fire and diffuse holiday scents such as our Peaceful Holiday Blend, which has 3 drops Idaho Blue Spruce, 4 drops Cedarwood, and 3 drops Pine.
Day 10: Host a festive feast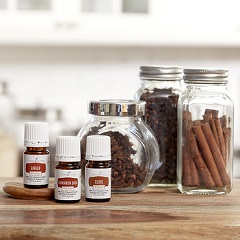 Take your holiday recipes for a test-drive and host a feast for friends and family. You can make it casual or formal, invite a few people or a group, cook it all yourself or go potluck. Whatever you do, look for a few new essential oil recipes, all featuring our Vitality™ oils, in our blog's recipe section!
Day 11: Warm up with wassail
Don't forget to make a holiday wassail for your annual ugly sweater party. Our wassail recipe with essential oils uses 6 cups apple cider, 2 cups pineapple juice, 5 drops Cinnamon Bark Vitality™, 5 drops Tangerine Vitality™, 5 drops Clove Vitality™, 2 drops Ginger Vitality™, and 2 drops Nutmeg Vitality™. Simply stir all the ingredients together in a large pot on the stovetop and turn the heat to medium-high. Heat through and serve warm in your favorite festive mugs!
Day 12: Share your YL love
Give others the gift of Young Living with our adorable gift tag printables! Use them for stocking stuffers for the family or share them with friends to show you care.
Happy Shopping!
~ Terri
Meet Terri Bonin, the author of 31 Days to Fit,  14 Days to Ignite Your Marriage, and Live, Laugh, Love, and Laundry. Terri's 23-year union with her favorite dentist (her husband), has been prosperous in their prolific production of 10 darling children. She also holds a degree in nutritional counseling which seems to be most frequently used to persuade her children to eat their greens. Terri's secret pleasure is sneaking away from juggling the daily tasks, homeschooling, and dating her husband to escape to her office to write for her own enjoyment. As you can imagine she has a LOT to write about!
*Disclaimer: The information above is based on my research and personal use of Young Living Essential Oils. I am not a doctor. Statements, products, and techniques mentioned have not been evaluated by the FDA and are not intended to diagnose, treat, cure or prevent any disease.